SAFETY must be the key concern of all employers and trade unionists. Following a spate of accidents, some fatal, at ports in recent years, Dublin Port launched an initiative in a bid to maximise what Harbour Master, Michael McKenna, calls a "culture of safety" at the facility.
Launched in September 2022, the Dublin SafePort initiative is the result of collaboration between Dublin Port Company and seven terminal operators at Dublin Port.
The initial seven participating terminal operators are Dublin Ferryport Terminals, Doyle Shipping Group, Irish Ferries, P&O Ferries, Peel Ports Group (MTL), Seatruck Ferries and Stena Line. Together, they account for an estimated 75% of port activity.
As McKenna highlighted to Liberty, the port is an environment with a large number of risk factors including cars being offloaded from ships, oil and other flammable materials being pumped in bulk and millions of tonnes of containers being unloaded annually.
McKenna said: "You have an awful lot of heavy machinery and vehicles moving in an area where you also have very delicate human beings. You are also beside the water so there are marine risks as well."
The port-wide initiative has seen Dublin Port Company and the seven terminal operators increase their collaboration to align and standardise safety practices and procedures across the 261-hectare port estate. Under Dublin SafePort, safety awareness campaigns, training and initiatives take place port-wide with the objective of enhancing the 'safety culture' in the Port.
McKenna explained: "Each company has safety management plans, where we saw there was a gap in that human relationship to safety beyond the nuts and bolts processes.
"They can be enhanced in a great way if people have a better understanding that they are cared about by their leaders, that they can look out for their colleagues on the ground and that they can intervene if necessary."
He added: "If you see something speak up is the key message."
Dublin SafePort operates on three levels with an executive group bringing together the CEOs of the various companies involved, this then empowered a working group which has drawn up the policies to improve safety across the Port. The working group,
where appropriate, liaises with the relevant authorities, including An Garda Síochána, the Road Safety Authority, and the Health and Safety Authority.
However, according to McKenna, the most crucial element is the on-the-ground-level approach which brings the initiative to the workers in the port facilities. This is focused on a weekly engagement session for workers on a Friday morning. These are led by 'safety champions' who are workers specially trained to lead improvements in safety culture in their workplaces.
Some of the measures which have emerged as part of the Safe-Port initiative have been a reduction in the speed limit across the
Port estate to 40 km per hour on the main roads. Signage has also been made more uniform and obvious. Varying speed limits in the terminal areas which were from 15 km to 25 km have also been aligned at 20 km.
Personal Protective Equipment (PPE) has been aligned at level 3 which is the highest standard. This includes high-visibility clothing which is in a process of being standardised across all terminals.
McKenna said: "We now have a set of 'golden rules' concerning the operation of vehicles in the Port area, the management of freight trains and other key operations such as walkways. These 'golden rules' are being shared across the Port in a uniform manner. There are now relationships across all the Terminals which is driving a positive culture of change."
He added: "The Irish Port Safety Forum, which brings together management from other Irish ports and some terminal operators, is now considering the suc- cesses of the Dublin SafePort scheme which may see some of them replicated elsewhere."
SIPTU representatives are among those who have endorsed the effectiveness of the SafePort initiative. SIPTU Organiser, Fran McDonnell, said: "The Dublin SafePort initiative is supported by our members as vital in the day-to- day operations of the port estate. It provides greater safety for work- ers and of other port users in this major gateway to the country.
"SIPTU members are also currently involved in the health and safety initiatives in individual companies within other ports. Vast improvements have been made by their efforts and there has been a tangible reduction in the risk of in- jury in these busy environments."
He added: "One other port in the country operates a similar SafePort model. That is Warrenpoint Port in county Down. We are of the view that the SafePort initia- tive should be implemented throughout all ports on the island of Ireland."
You have alot of heavy machinery and vehicles moving in an area where you also have very delicate human beings
Dublin SafePort initiative is supported by our members …
It provides greater safety for workers and of other port users in this major gateway to the country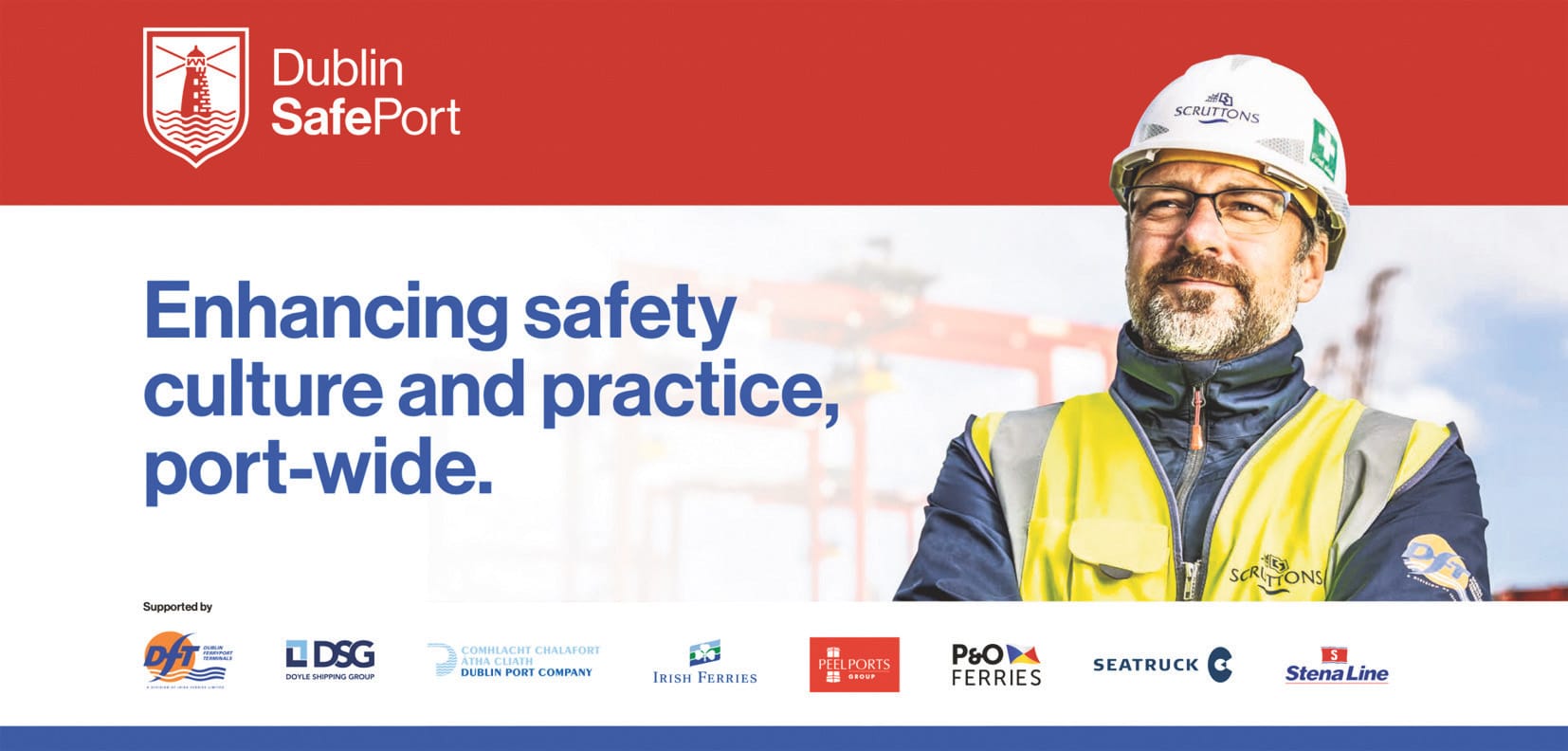 This first appeared in SIPTU Liberty July/August 2023.